Attendance
There is perhaps no greater challenge than creating and tracking employees time and attendance in a medical or health care facility. Besides the basic need to monitor work time and attendance information, workforce management systems must be fully customizable to accommodate variable working patterns and work rules. It's crucial to support flexible shifts and work schedules across multiple departments and locations.
Non-standard schedules are a way of life in medical and health care facilities. From maintenance personnel to doctors, nurses and technicians, every position must be staffed and accounted for around the clock to provide continuous, safe patient care. But time & attendance management doesn't stop with simply generating work schedules and their attendance. In order to be cost effective, the system in place must save vital management time, reduce administrative costs, and have protocols in place to protect employees and the facility alike. Leysha is customized to do exactly this and lot more.
Leysha Hospital HR management supports following four ways for managing attendance
Biometric Attendance – with Facial Recognition
Biometric Attendance – with Finger Print

Biometric Attendance – with smart Cards
Biometric Attendance – with web app or mob app
Key Features
1. Employees can Mark attendance using finger print, facial recognition, smart cards, mobile and web application.
2. Their location is captured when they punch in / out.
3. View attendance as it happened in a single report view.
4. Get notified if you want when someone punches in / out.
Admin view of attendance module

Staff view of application after punch-in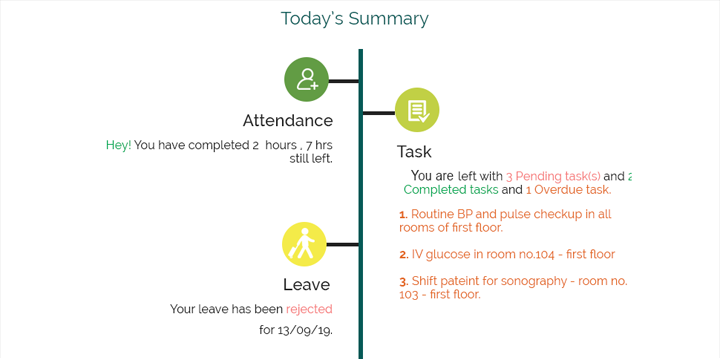 Your staff can view all task scheduled for today with their attendance, leaves, expense, tracking etc. This summary will vary depends on logged-in staff designation.